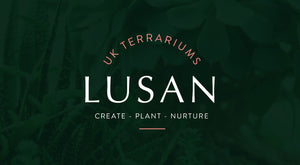 All about Lusan
After sharing last month a bit about the backstory of UK Terrariums, we would like to share with you some exciting updates we have worked on recently! We worked with Amy @beginstudio on a rebranding and have a beautiful new website, logo, packaging materials and even a new name: Lusan UK Terrariums.
As you may know we are based in Edinburgh, and we wanted to celebrate being a small Scottish business. 'Lusan' means 'plant' in Scottish Gaelic, and once we heard it, we just knew that it was perfect for us! With the new name have come two new members of the UK Terrariums family. Andrea and Kristen have joined the team and we are excited for the growth and new things this will allow Lusan to try! You can read a bit about Andrea and Kristen below.
As for Lusan, we have a lot of exciting things coming up that we are excited to share with you soon. For more glimpses into our workshop and all kinds of plant inspiration, why not follow us on Instagram, Twitter or Facebook where we find ourselves updating every time we get excited about something (which is often!!). We even created a fun tutorial to help you create your terrarium on our YouTube channel.
Hi, my name is Andrea and I am the one taking care of the admin and social media planning at Lusan UK Terrariums!
Before joining Lusan, I was a French teacher for 5 years. I lived in South Korea and Peru and ended up in Scotland in 2016 where I met my husband.
I love living abroad and discovering new cultures and languages and meeting new people! After deciding that teaching was no longer for me, I decided to take a year off to volunteer and train in administration.
When Daniela first talked about Lusan it took me only a couple of seconds to decide that I wanted to be involved in this wonderful adventure. I joined in June this year and I have loved every second of it! I am looking forward to what is coming next for Lusan!
Hello everyone, my name is Kristen and I have recently joined Daniela and Andrea at Lusan! I love helping prepare and pack your orders, and I also work on Lusan's social media. I am originally from Aberdeen but am now based in lovely Edinburgh.
When I'm not working with Lusan, I am a freelance illustrator and painter. Last year I wrote and illustrated my first children's picture book, and I would love to tell more stories going forward! I also love to document my travels in my sketchbook. You can see some of my work at kristenbruce.co.uk or @kristenbruceillustrator.
I have always loved plants and have been guilty of adopting more houseplants than I have space for! It's so wonderful to be part of a small business and work on all of the exciting projects we have in the pipeline!
---