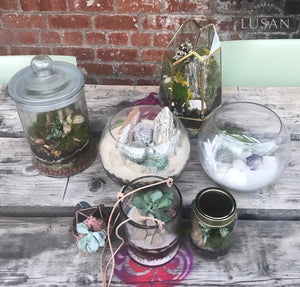 Autumn Updates
This month has been exciting at UK Terrariums Lusan. We moved into a space in the amazing Leith Collective in Edinburgh. Leith Collective is a retail space in Ocean Terminal which supports over 100 makers and artists from the local community. We are beyond excited to be able to sell our lovely terrariums in real life, and in such a wonderful environment!
Daniela created some beautiful bespoke pieces for Leith Collective, which truly showcase how creative you can get with your terrariums! Which one is your favourite?
We also created a Trustpilot - uk.trustpilot.com/review/ukterrariums.co.uk. Please feel free to leave a review, it would help our small business grow, and we love hearing feedback from our lovely customers! We are also planning to start doing E-Workshops and if everything goes well we should be starting in December. Right in time for Christmas!
Finally, we wanted to thank you for your support. Seeing our business grow is so rewarding and we feel so grateful to be able to do do what we do thanks to you! During what has been a difficult and uncertain time, with people responsibly self-isolating and staying home to protect our loved ones and others in society, many people's mental health is greatly suffering as they become depressed, anxious and bored.
A large number of people have expressed a craving for the presence of plants and nature in their home in lieu of regular access to outdoor space. With the situation being what it is, many are also out of work, not getting paid enough, or are worried about finances.
We would like to offer our products - from the plants, to the ready made terrariums to all the terrarium kits we have available - free of charge to people who are in need of reconnecting with nature or are looking for fun, therapeutic and creative activities to do on their own or with family/quarantine partners and are worried about money.
We can afford to cover the costs of some products, but as a small business, there's only so much we can do. With your help, we can reach even more people than we would be able to on our own. Any donation you can make at all to pay it forward would be so warmly appreciated. Pay it Forward Here
Thank you!
---