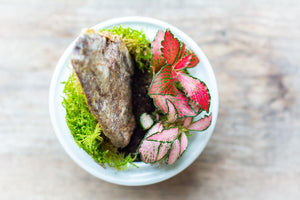 How to decorate your terrarium
Today's article is all about decorations. We discuss some ideas about how to decorate your terrarium and make some suggestions about what elements to use for certain effects. We also have some tips about how you can keep your terrarium feeling new and fresh through the year with ideas about how to decorate it for different seasons.
What's the best way to decorate a terrarium?
Now this is the REALLY fun part! One of my favourite ways to decorate a terrarium is with statement rocks, stones, reindeer moss, driftwood or crystals. If they are quite large, we recommend you putting these in first and planting your terrarium plants after. You might want to play around with placement first, before planting, by doing it on your table first to see how all the pieces fit together, or you might just want to go for it and see what happens. You can then use smaller pebbles, figurines, crystals, reindeer moss and bits of sterilised rock. Just make sure to avoid anything that might rot in the humidity (such as knitted fabrics), or might introduce harmful substances or creatures in your terrarium (such as wild foraged unsterilised wood).


Recreate mountainous desert landscapes with sand and terracotta-coloured rocks and stones, with beige sand to pair with your succulents and cacti.
Pretend you're going for a trip to the beach with white sand, shells, and driftwood.
Imagine a garden scene, with miniature picnic baskets, benches, and a small family enjoying their time outdoors. Or take a more active approach and create a scene where people are hard at work gardening!
Take inspiration from your favourite video games and source miniatures that might be sold as merchandise, or use the scenes as inspiration for planning your landscape.
Travel back in time to the era of the dinosaurs, with leafy foliage, interesting rocks and miniature dinosaur toys or figurines.
Go for a minimalistic look with simple whites, blacks and greens using white sand or rocks for the green of the plants to really pop and nothing else.

There are so many ideas! A good tip if you're stuck is to have a look on Pinterest or Instagram at scenes you'd like to recreate and identify some of the key features and colours so you can decide how to recreate it in miniature.
Change it up with these tips
If you are getting a little bored of your terrarium, or perhaps if you'd like to make it a central decorative piece in your home that you switch up according to the seasons to fit in with your home decor for halloween, Christmas, Easter, Valentine's day, birthdays, Eid, Hannukah, Diwali or any other special holiday, read on for some tips!
Use decorative elements that can be easily removed and won't disrupt the health of your terrarium by accidentally smashing leaves on the way out or in.

Don't bring in items from the outdoors without washing and sterilising first, to avoid bringing in contamination to your terrarium. Examples include pieces of wood, wild moss or plants, shells, or rocks. Avoid harvesting moss where you can unless you know you can do it safely and sustainably, as there are often rules and regulations against removing moss from certain areas.

Small fairy lights, carefully placed, can be a lot of fun! You will want to use a battery pack that is suitable for the outdoors and is waterproof so that you can place the battery in the terrarium, or find a way to leave the battery outside the terrarium. Alternatively, stick the battery pack to the bottom of the lid on the inside.

You can set aside a small, empty area of the terrarium, e.g. with flattened soil, where you can recreate little scenes depending on the season. You can do this with figurines, toys, or decorative items from around your home. The empty space makes it easy to remove things from previous seasons and add new items when you want a refresh.

If you have a terrarium with a cork lid, you can screw in some hooks to the top. This way, you can hang gorgeous pieces from a string on the hook, such as baubles or other Christmas decorations, miniature kokedamas, hot air balloons, planes, birds, butterflies, or small bunches of dried flowers and whatever else your imagination calls for. You can then easily remove the lid to remove or replace the decorations.

Have a selection of different reindeer moss colours. You can use pinks, yellows and light greens to welcome in the spring, and then switch it out for warm orange, yellow and red colours to reflect the cosy colours of autumn.
---