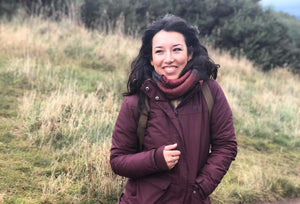 Meet our founder Daniela!
This month we thought it would be great to introduce ourselves.
We would love to start with our founder, Daniela!
Hi everyone, I am Daniela, the founder of Lusan UK Terrariums. It has been brought to my attention that I never properly introduced myself. So today is the day I overcome my camera shyness and tell you who I am! I wanted to talk a bit more about myself and why I started UK Terrariums so that you knew who the person was behind the business. I'm originally from London, born to Brazilian parents. I've been living in Edinburgh now for 7 years, with my husband and two cats Tommy and Athos.
I'm a qualified high school teacher of philosophy and religion, and am now teaching part time so I have more time to work on my businesses (UK Terrariums being one of them; @the.wisdom.collective being the other, where we try to extend the reach of philosophy to schools and workplaces in Scotland).Now that my personal bio is out of the way, here's the story about how and why I started UK Terrariums.
Living in a grey, cold city in Scotland (I do adore it but my love for it doesn't make it any sunnier), I was instantly enchanted by the prospect of a little capsule of nature that could thrive indoors and look beautiful. Excited by the prospect of a new creative project that wasn't too difficult to create and maintain (and inspired by a new love for "the home" that was previously my mother's domain) I set out on my adventure. I had found a large, unused glass bowl that had been left at the flat by a previous tenant, so all I needed was some layering materials and tiny plants to breathe new life into it. With a determined optimism, I splashed my way to the nearest garden centre (it was the kind of wet and windy weather that renders any sort of umbrella futile) dragging my unfortunate boyfriend with me.
I'm a patient person, but it wasn't long before I started feeling quite dejected. I couldn't locate any of the inspiring materials that our American friends had recommended on blogs and various Pinterest boards. I sourced a selection of small succulent plants and cacti, a big bag of cactus compost and fake, wiry moss, and went on my way. I built the terrarium, and I was addicted. I looked online for supplies, expecting some dedicated terrarium/miniature garden supply stores, or kits that I could buy, but no luck. They were either expensive, shipped all the way from the States, or the materials were scattered separately on various different stores. So, UK Terrariums was born.
At the time, there was a clear gap in the market for terrarium crafts in the UK, and my aim was to fill it. I go through the hard work of sourcing supplies so that you don't have to - and so that there is no need to buy more than you can think of what to do with. Many wonderful terrarium businesses have since emerged in the UK, and I am always inspired by their work and creativity, and so excited about the future of terrarium craft here!
---